Senior Account Executive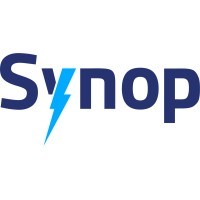 Synop
Sales & Business Development
Posted on Thursday, May 18, 2023
About Synop


At Synop, we are dedicated to accelerating fleet vehicle (EV) deployments through our SaaS platform that manages EVs and EV charging solutions for the world's largest commercial fleets. Our ambitions are massive - build a game-changing software company and lower greenhouse gas emissions from the transportation sector. We are a seed-funded start-up backed by leading VCs including Obvious Ventures, Wireframe Ventures, and Better Ventures. Come join our rocket ship and help accelerate our growth!
Interested in making a positive impact on the climate crisis, solving tough problems, and breaking new ground? Then read on…
Our Story


Gagan Dhillon and Andrew Blejde co-founded Synop in 2021 to tackle a large and meaningful problem: create the infrastructure for commercial transportation to transition to electric vehicles and put EV operations on autopilot, bridging charging, fleet operations and energy management in a single, unified platform to take care of all fleet electrification needs. The outcome? Synop will support lowering the carbon footprint by 25-30%.
Our People


We are a people-first company aiming to create a unique culture where everyone can do work they're proud of, form lasting relationships, and make an impact. Our values help define who we are as a company:
We are customer obsessed. Our mission is to solve the biggest, hidden infrastructural barriers for customers looking to make and manage the transition to electric vehicles seamlessly.
We are accountable. We deliver what customers need…sometimes before they know what that is…and have the tenacity it takes to be first movers.
We are curious. We gain a deep understanding of customer needs and wants and explore new approaches to help our customers reach their goals.
We approach others with empathy and acceptance. We see the product from the customers' perspective; we see people as they want to be seen, with an open mind, honoring and accepting unique differences.
We act with urgency. We have a unique opportunity right now to make a remarkable difference for the world, for our customers and for our people.


…and we uphold the highest standards of honesty and integrity in all we do.
We take pride in our people as well as in the products and services we provide, and each role is not only an opportunity for us to hire great talent but make a connection with someone who shares our values and is passionate about our mission.
About You


You're located on the West Coast, preferably California. You have prior experience in the EV space / energy sector / commercial fleets.
As a Senior Account Executive, you will drive new business through prospecting, deal and pipeline management, and closing. You will be part of an elite, professional, and rapidly growing team that succeeds through collaboration, tenacity, and constant improvement.
You learn quickly and are excited to take on challenging new projects
You are sharp, self-motivated, organized, detail and process oriented
As a colleague, you enjoy planning, executing, winning, and celebrating as part of a team
You are a clear and direct communicator
You exceed expectations and hold yourself accountable to a high standard of excellence


What You'll Be Doing

Engaging prospects at a senior executive level to pursue and close new customers.
Conducting outbound prospecting to fill your pipeline with qualified sales opportunities as well as handling inbound opportunities.
Consistently achieving revenue targets by applying modern sales techniques and processes to efficiently manage sales opportunities through your funnel to a successful close.
Using your creativity and tenacity to develop and improve how we target and penetrate new market segments.
Contributing directly to the success and growth of the company.


What You'll Bring To The Role

8+ years of B2B sales experience in a hunting role
Strong Salesforce experience
5+ years of experience selling complex software solutions
Demonstrable track record of above target performance, especially in a startup environment


All things are a conversation and salary will be discussed in the 1st call, not the last one. Base salary and total compensation are dependent upon many factors, such as: skills, experience, and relevant past roles. The target for this role is $120,000 - $150,000, OTE $220-$250k. Earn uncapped commission as you sell a new and disruptive technology into a huge market
How You'll Be Supported


We want our people to feel supported so they can thrive in all aspects of their work-life. We offer a full array of employee benefits and are adding more options as we grow. In addition to working with remarkable people in a remarkable culture, we offer the following:
Medical, dental, vision coverage (Synop contributes 50% of your premium), along with Employee Assistance Program and other benefits.
Unlimited PTO. We want you to take time off to recharge so you perform at your best. We don't set a specific number of days. Take what you need; just be reasonable and make sure your deliverables are met.
Paid holidays.
Wellness benefit.
Flexibility. We are a virtual-first company with people across the US. We manage by objective.
Health care spending account and Commuter benefit.
Access to local co-working space (where we have people, you'll have colleagues to collaborate with in person!).
A fast-paced and collaborative environment where we leverage the latest technology.
An opportunity as an early team member to help shape the direction of the company.


Our Commitment to Inclusion and Equity


Sustaining the future is what we do…for the planet, our customers, and our people. We are committed to creating and sustaining a culture of inclusion and connectedness. Our commitment to inclusion and equity means that we value who you are and the path you've taken to get here. We're more interested in your experiences, results, and impact than brand names, degrees, or keywords on your resume.
Synop recruits and supports a distributed team of people across the US who work remotely. Our guiding principle is "purpose-driven": whether we work at home or in one of our offices, and with what frequency; whether we're working virtually or traveling to get together for periodic in person collaboration events. Our working norms are evolving, and we expect our people to help shape our path forward.
All qualified applicants will receive consideration for employment without regard to race, color, religion, gender, gender identity or expression, sexual orientation, national origin, genetics, disability, age or veteran status. Synop is also committed to compliance with all fair employment practices.
If you're looking to join a company where you can proudly bring your whole self to work, can help drive success, and have fun solving hard problems that matter, we can't wait to meet you. Apply today!